Buy platinum bullion in Singapore
A little less known but also interesting as precious metals, platinum bars are good investment assets. Like gold and silver, platinum is a profitable asset that can be held in the form of coins or bars in ingots. Unlike gold, platinum is rare to find and investors may underestimate the wealth of this white metal that preserves these attributes over the years. Today, almost 75% of the world's supply of platinum comes from a single country - South Africa. Investing in platinum offers enormous upside potential.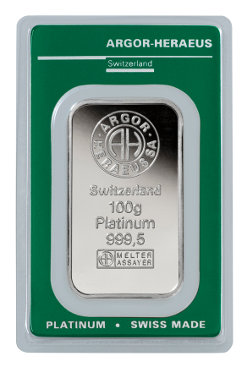 Why Buy Platinum Bars ?
If you are looking to invest in precious metals, Platinum is a great option. Although it is still unknown for most investors in industrial production, this is still unknown to confirmed investors. This metal offers a true perspective of evolution. Platinum is a very dense precious metal and its available quantity is twenty times rarer than gold.
Bunker Group can help you to buy your platinum ingots very easily today! At Bunker, we offer Platinum bars to help you to develop a long-term and profitable investment plan. We only offer physical bullion.
Platinum certified LBMA.
Like our gold or silver bars, our platinum bars are accompanied by certificates of analysis, which are certifications of the origin of the bars, the purity of the bars and of the weight of the platinum bullion. At Bunker, we guarantee the best price of the platinum bar on the market.
Buy Platinum Bars vs. Platinum Coins
You may wonder what is the investment difference between a platinum bar and a platinum coin.
Indeed platinum ingots and platinum coins are interesting but totally different investment options.
Platinum parts are the other primary type of platinum ingots. In the most famous coin series in the world, you will find the Maple Leaf, American Eagle or the Australian Koala made with platinum.
These platinum coins are popular all over the world but are not as profitable from an investment point of view.
On the other hand, platinum bars are a very common form of investment in platinum. These bars usually sell in smaller grams sizes, such as bars of 100 grams. This means that you will pay a lower premium with a bar than with a piece of platinum. You can meet different models for platinum bars that come from different refiner on the market. Among the most common are the bars of Heraeus.
At Bunker, we guarantee the authenticity of your platinum bullion.. The refiner's mark is engraved on the bar, as well as the individual serial number of the product. Platinum bars are cheaper than a golden bar and represent an excellent opportunity to diversify your portfolio and mitigate the risks.