BRICS has introduced a new payment method to replace the USD. Which countries are using it, and how?
New Alternative Payments for the BRICS
We will deep dive into the payment alternatives that the BRICs put in place as a substitution to the USD. We will see how citizens of Russia and Iran manage to do their payments. We will also quantify what China and India have been doing in order to de-dollarize.
In the first chapter, we will show that all BRICS members have taken steps to reduce their dependence on the US dollar.
In the second chapter, we will show that China is actively promoting its payment system.
In the third chapter, we will show how Russians and Iranians make payments under sanctions.
1. BRICS Countries Challenging Dollar Domination.
In 2009, at the first summit of the BRICS countries, they declared that "there is an urgent need for a stable, predictable and more diversified international monetary system." The main motive was diversification of the financial payment system, strengthening of international influence and promotion of cooperation with large economies such as China, India, Russia, Brazil and South Africa. In 2011, the stock exchanges of the BRICS countries created an alliance and began to work together using their own currencies for exchange trading. In 2013, the BRICS countries created the New Development Bank, which is an analogue of the International Monetary Fund and the World Bank. By 2023, all BRICS countries except South Africa have developed their national payment systems, similar to SWIFT, and their independent retail bank card networks, so as not to depend heavily on American Visa and MasterCard.
In 2017-2018, the BRICS countries announced their ambition to create their own currency for making payments. The main idea is to create a new currency based on a basket of the currencies of the five-nation bloc: the Chinese RMB Yuan, the Russian Ruble, the Indian Rupee, the Brazilian Real and the South African Rand. This idea especially developed in 2022 when Russia was deprived of its dollar reserves due to the war in Ukraine. In September 2022, Russian President Vladimir Putin announced that countries are working on creating a new global reserve currency. In April 2023, the president of Brazil, Luiz Inácio Lula da Silva, said that developing countries should find an alternative to the dollar. "Why can't we do trade based on our own currencies?" he said. "Who was it that decided that the dollar was the currency after the disappearance of the gold standard?" "We need a currency that gives countries more calm, because today a country needs to run after the dollar to be able to export, when it could export in its own currency," he added.
1.1 India Promotes the Trade in the Indian Rupee
In 2016, the National Payments Corporation of India (NPCI) introduced the Unified Payments Interface (UPI). The interface facilitates inter-bank peer-to-peer (P2P) and person-to-merchant (P2M) transactions. In the end of 2022, the platform has 300 million monthly active users in India.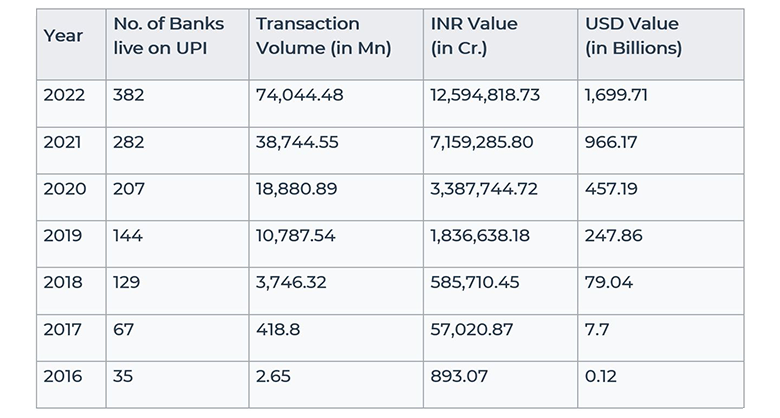 In 2022, 382 banks are available on the platform with monthly transactions of 6.7 billion or about 140 billion USD per month. (Source: https://www.npci.org.in/what-we-do/upi/product-statistics)
Cross border digital payment service provider Liquid Group signed memorandum of understanding (MoU) with NIPL in September 2021 to introduce UPI based QR code payment system in Singapore, Malaysia, Thailand, Philippines, Vietnam, Cambodia, Hong Kong, Taiwan, South Korea, and Japan from 2022. NIPL signed MoU with Arab Monetary Fund (AMF) on 8 March 2022 to link UPI with Buna Payment Platform that is connected with the central banks and financial institutions from Arab region. This will help in cross border multi currency transaction. (Source: https://www.khaleejtimes.com/business/amf-indias-npci-ink-deal-to-boost-cross-border-payments)
India and Russia expressed interest in continuing dialogue on accepting UPI and Faster Payments System (FPS) of Central Bank of Russia within their respective national payment infrastructures. On April 2023, Russia and India signed an official agreement for adaptation of SPFS in cross border transactions, acceptance of RuPay and UPI in Russia, and reciprocal acceptance of Mir and FPS in India. (https://www.newindianexpress.com/cities/delhi/2023/apr/25/deal-done-on-using-cards-upi--russian-financial-messaging-system-2569204.html)
Participants of this payment system are India, Bhutan, Nepal, Qatar, Saudi Arabia, Malaysia, Singapore, Thailand, Vietnam, Cambodia, Indonesia, Sri Lanka, Oman, Mauritius. Bahrain, Maldives, United Arab Emirates, Hong Kong, Taiwan, South Korea, Australia, Japan, France, Switzerland, Netherlands, Canada, United Kingdom, European Union and Russia.
1.2 Brazil Started to Develop its Payment System
In 2020, the Brazilian central bank introduced its own PIX payment system. This payment system operates only in Latin America. According to the latest reports, the system has already made more than 6 billion transactions totaling to an amount of 3.75 trillion BRL or about 682 billion USD. However, despite this progress, more than 90% of transactions in Brazil take place in US dollars. (Source: https://www.bcb.gov.br/en/financialstability/pix_en)
2. China Expands International Settlements in Yuan.
Cross-Border Interbank Payment System
In 2015, China introduced its own Cross-Border Interbank Payment System to internationalize RMB use. The Cross-Border Interbank Payment System (CIPS) is a Chinese payment system that offers clearing and settlement services for its participants in cross-border renminbi payments and trade.
According to data as of May 2023, CIPS has CIPS has 1441 participants in 182 countries. (Source:https://www.cips.com.cn/en/participants/participants_announcement/59585/index.html)
According to official data, as of April 2023, the yuan accounts for 48.4% of cross-border transactions, replacing the US dollar in first place. However, the Cross-Border Interbank Payment System is used only for legal entities and does not allow ordinary citizens to make payments through its system. (https://www.cips.com.cn/en/index/index.html)
According to Swift data in May 2023 RMB becomes a third global currency in finance trade market and has 4.49% of market share which is increased by 3% since the 2021. (Source: https://www.swift.com/our-solutions/compliance-and-shared-services/business-intelligence/renminbi/rmb-tracker/rmb-tracker-document-centre). The yuan has made marked progress in internationalization. It has become the world's fifth-largest payment currency, third-largest currency in trade settlement and fifth-largest reserve currency.
Union Pay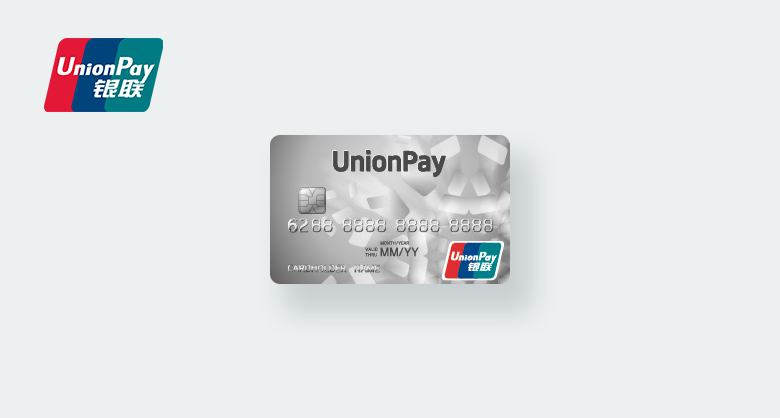 In 2002, the State Council and the People's Bank of China introduced the UnionPay payment system. UnionPay system issues its own credit cards. This card can be used by all citizens where UnionPay cards are accepted or issued. For example, in Europe, citizens can buy products using a UnionPay card. According to official data in France for example you can use it in 80% of merchants for paying stuffs in Euro. (Source: https://m.unionpayintl.com/cardholderServ/globalCard/en/global_3/10050122?type=2) This card also works in Australia and Japan. In Australia, UnionPay cards are accepted at 95% of POS and 99% of ATMs. (Source: https://m.unionpayintl.com/cardholderServ/globalCard/en/global_3/10020122?type=2). UnionPay cards are accepted at more than half of merchants in Japan, covering accommodation, transportation, catering, entertainment and many other daily purchasing fields with multiple exclusive privileges provided. UnionCards have been accepted in the US since 2005. (Source: https://m.unionpayintl.com/cardholderServ/globalCard/en/global_3/10040352?type=3).
Residents of EU countries can open their own account with a UnionPay card. To do this, you need to go to the bank that issues UnionPay cards and apply for it. Another option is to apply online. Another alternative is to use card providers like STICPAY, ECARD (US citizens only), Mifinity and Allied Wallet.
UnionPay cards have four base currencies for issuing cards: Chinese Yuan (CNY), Australian Dollar (AUD), Canadian Dollar (CAD) and Euro (EUR). Transaction currencies are 169 world currencies including the US dollar (USD).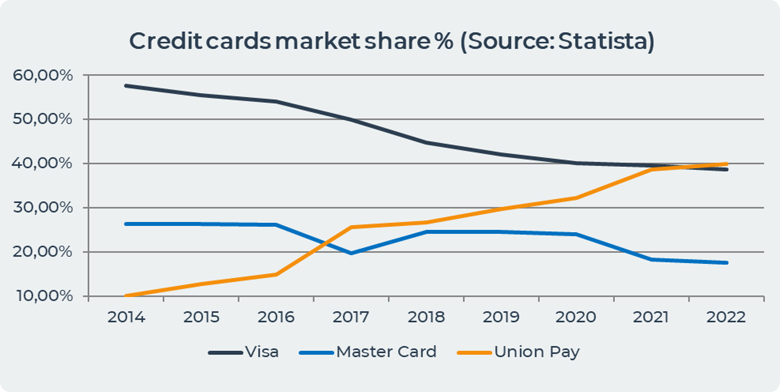 The chart above shows that the share of transactions using UnionPay debit cards reached 40.03% in global market with daily volume of transactions reached $16,227 billions according to Statista data.
3. Russian and Iranian Citizens Payment Options Under Sanctions.
MIR
In 2008, the Russian Central Bank introduced its own MIR payment system. This payment system works in Belarus, Kazakhstan, Kyrgyzstan, Tajikistan, Venezuela, Cuba. However, in the summer of 2022, the TASS news agency stated that four African countries and one Middle Eastern country considered launching Mir cards: Ethiopia, Nigeria, Tanzania, South Africa and Syria. However, despite plans to implement the MIR payment system, it still does not work in African countries. MIR cards are issued in ruble currency and only in Russia. Anyone who wants to open a MIR card can get it, but only in Russia.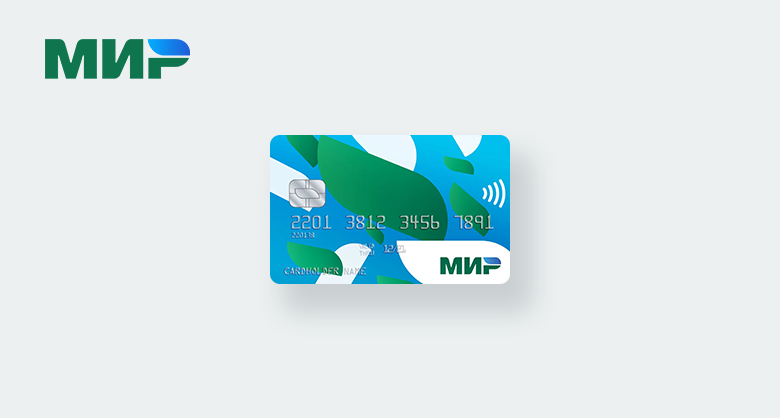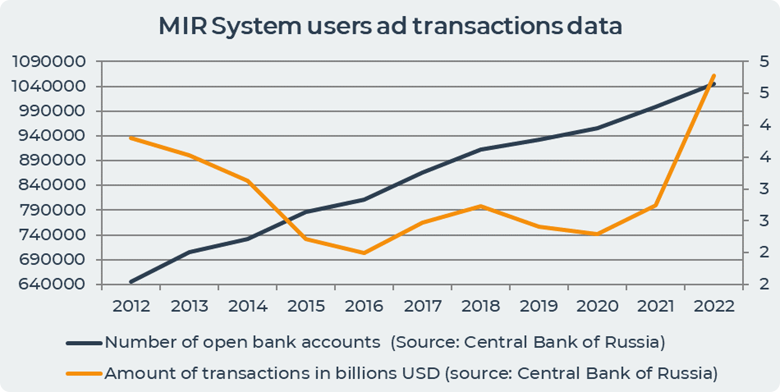 The graph above shows that the number of open bank accounts in the payment system is constantly growing. The number of transactions of the MIR payment system increased dramatically in 2022, when sanctions were imposed against Russia due to its invasion of Ukraine.
UnionPay in Russia and Iran
In the context of sanctions, the UnionPay card is especially important for residents of Russia and Iran. Union Pay works in Iran since 2015 and in Russia since 2006. Iranian citizens have been able to use UnionPay cards since 2015. In September 2016, the Russian National System of Payment Cards and UnionPay agreed to issue joint Mir-UnionPay bank cards, which will allow paying with 1 card in two different payment systems (source: http://russian.cctv.com/2016/09/15/VIDExVicK19h8q64MoWUSc81160915.shtml). The corresponding agreement was signed on September 14, 2016 in Shanghai, and the first Mir-UnionPay cards were issued in July 2017 by the Russian Agricultural Bank.
List of banks issuing UP cards in Russia (as of May 2023):
JSC Rosselkhozbank
Bank GPB JSC
Bank Vostochny
JSC CB "Solidarity"
PJSC "Bank" Saint-Petersburg
JSC "Gazprombank"
PJSC Promsvyazbank
RRDB Bank (JSC)
PJSC SKB Primorye "Primsotsbank"
PJSC CB "Primorye"
PJSC Bank ZENIT
JSC "Post Bank"
JSC "Tinkoff Bank"
On April 20, 2022, the payment system announced that Russian sanctioned banks would not be able to issue UnionPay cards. According to them, these cards will not be issued by: Sberbank, Alfa-Bank, Otkritie, Sovcombank, VTB. The relevant negotiations were put on hold. In March 2023, a number of Russian banks that fell under another round of sanctions began sending warnings to their customers that Union Pay cards might stop working abroad "in the near future." Foreigners are advised to withdraw cash. In Russia, the cards will still work. (Source: https://www.rbc.ru/finances/20/04/2022/625ffd519a7947196d66f36c).
Other options for Russians to get cards
Russians banks offer to their citizens to open accounts in yuan. There are 2 banks that offer such services: VTB Bank and BKS Bank. (Source: https://www.vtb.ru/krupnyj-biznes/raschety/raschetno-kassovoe-obsluzhivanie/otkrytie-schetov/?fbclid=IwAR3PDOCoKjM7_f0Ml-GuCNxYayPVWwcHII4mFaoxE5PLVruJC_rtqscFhro) It's pretty simple to do for citizens. They need only take their passport and come to bank. Yuans are holding in Russian banks. Russian banks also offers deposits in yuans for their citizens. It's possible to withdraw cash in yuans but not everywhere. VTB is free but BKS you need to pay around 1US$ for this service one time.
You can open such card online or in bank. You can withdraw money at the cash desk of the bank and pay online. Usually, all the currencies offered by the bank are available, it is only recommended to clarify whether the required amount will be in a particular branch. This can be found in the VTB support service.
Another alternative is to open cards abroad. If Russians have a desire to open foreigner bank account for payments abroad, they can go to other countries like Kazakhstan, Uzbekistan, UAE and so on. There are offers trips organization for this purpose.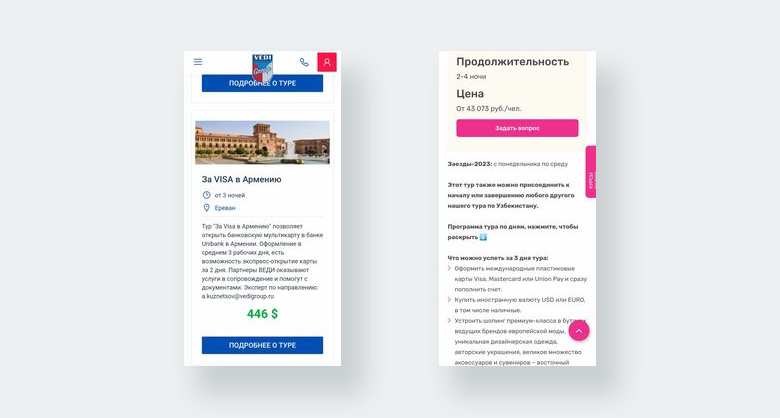 Commercial companies that offer such trips: the offer for issuing cards in these two countries is available for booking with tour operators Intourist, Russian Express, PAC Group and VEDI GROUP. Tour operator KMP Group offers "card tourism" only to Uzbekistan.
It costs from 250US$ without a fly and took 2-5 days.
Conclusion
The BRICS countries offer an alternative monetary system to the world based on reducing dependence on the United States. Countries have already taken very important steps to reduce their dependence on the US. Countries living under sanctions have learned to create alternatives or find ways around sanctions. The next step, according to investor Jim Rickards, is the creation of their own currency by the BRICS countries, which may be announced as early as August this year. Countries continue to develop and offer multipolarity and alternatives to the world in the financial system.
Date= 20th June 2023, Gold price – 1958.60$, Silver price – 23.19$, Platinum price – 976.10$, Oil price – 71.45$