If you want to buy physical gold from Africa. Read this text which shares a personal experience during an attempt to purchase gold bullion from there.
These latter months, I got some (mainly chineses) people asking me about the opportunity to buy gold from Africa. Hence, for once, this text will share a personal experience during an attempt to purchase gold bullion from there.
Pre-note:
Although the title mentions Africa, this text will focus on Ghana.
This story is true but in order to avoid any problems, names have been changed except the scammers one.
Before The Departure : Can we Really Buy Discounted Gold?
Even though Bunker Gold&Silver gives the most competitive prices in the gold market for LBMA fresh bars (spot+0.5% from 100 grams gold bar), in early 2018, the company decided to send me to Ghana in order to verify if we can really buy gold at a cheaper price. I already explained in a previous article how serious bullion dealers get gold: we place order from certified refiners (LBMA) and we pay a premium above the spot price.
But since everybody was talking about discounted gold, we wanted to check the reality of it. One of the obvious ways was to get our product at the source and skipping the intermediaries. Meanwhile China is the largest gold producer in the world, when it comes to buy gold at profitable prices directly from the mines, the option is most of the times the same: Africa!
And in Africa, one of the largest and safe producers of gold are South Africa and Ghana. South Africa is a little bit complicated since some big major companies as Rand, Lonmin ... locked the access. In Ghana also, but the country is more open with small and medium scale mines (Galamsey) representing a big part of the production.
Our journey with Ghana started as usual with an offer by email/Whatsapp or Linkedin. As gold dealer, we received continuously offers (Soft Corporate Offer….) from Africans (Nigeria, Kenya, Mali…) saying that they can sell gold at a fixed price per kg (like 30 000usd/kg) representing usually a 20-30% discount. If you are in this field, you directly recognize the scam.
For example, no serious seller would deal at a fix price in a volatile market. This is why, we generally do not pay attention to these kinds of offers. Especially when the seller asks you to pay 5% upfront in order to pay the taxes, the legal fees or the security guy.
If you get one of these types of offer, you can delete straightaway!
This time, the seller was inviting us to come in Ghana to check the gold. So, I was thinking: "why not to try it? I even may send someone to check it out for me".
In fact, I did not know anyone I could send there with the responsibility of buying USD 2millions of gold. We were not ready to buy this amount as a first try but the seller wanted a proof of funds from the bank to be sure that we had the money.
So, it's not only for the money but also for the physical integrity issue, I could not send someone.

Then, the last factor that convinced me to fly there, was the African Mining Investment Forum organized at the same time by Spire Event…a Singaporean based company specialized in organizing mining conferences. So, I assumed that I would know some people from Singapore and this Forum could also be an opportunity to make some valuable contacts in Ghana.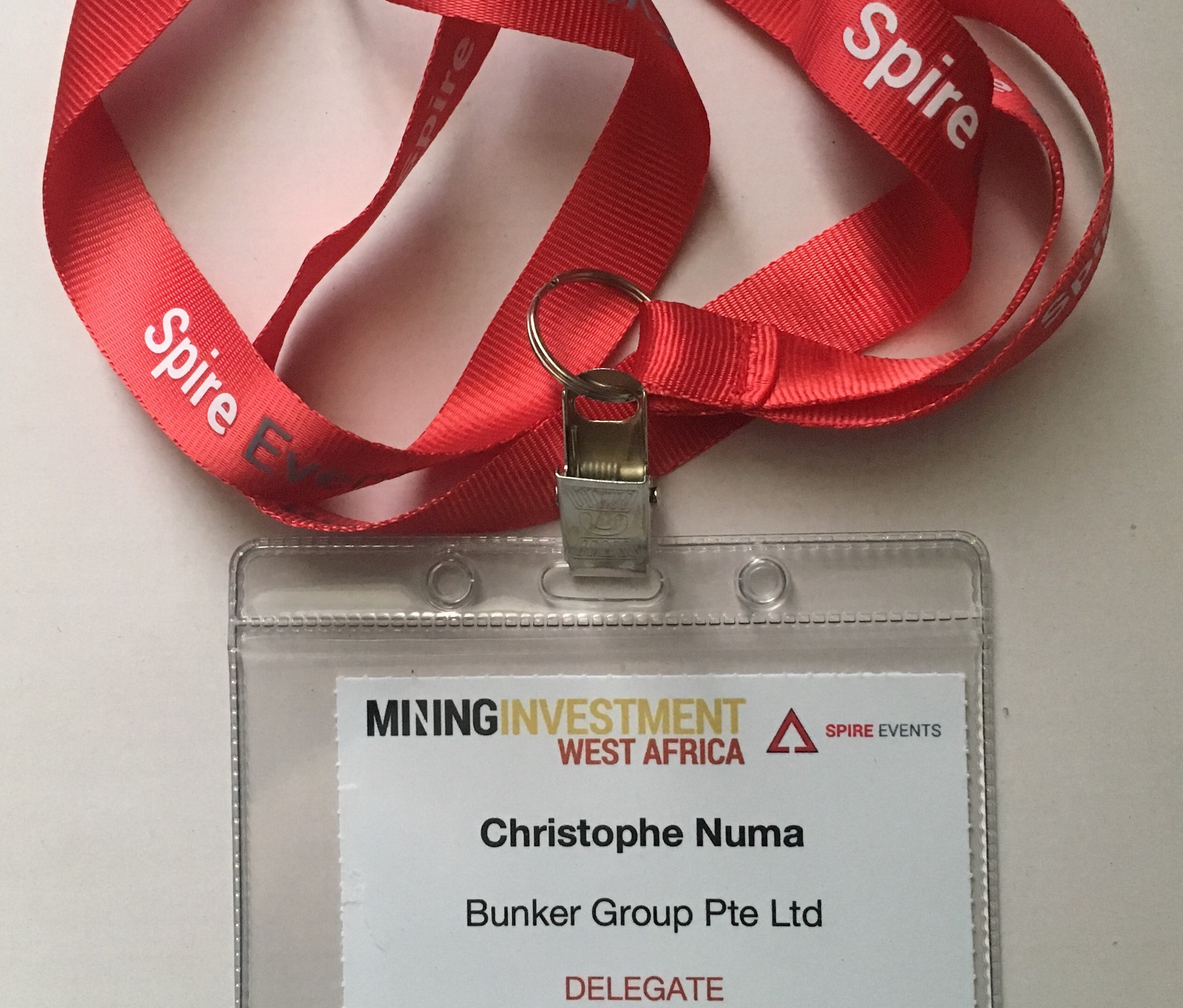 Thus, while waiting for the results of some due diligence about the seller (which I will not described here to not disclose on our process) I decided to go there.
Something you also must know. For Ghana and the precious metals area specifically, you can not consider the first results in the Google search ranking as the trustable ones. Scammers are so good that fake government pages can appear before official government pages. For example, at this time I was looking for the official government institution related to gold exportation named PMMC in Ghana. Fake PMMC website appeared before the official website when I searched on Google.
I checked today, here is an example: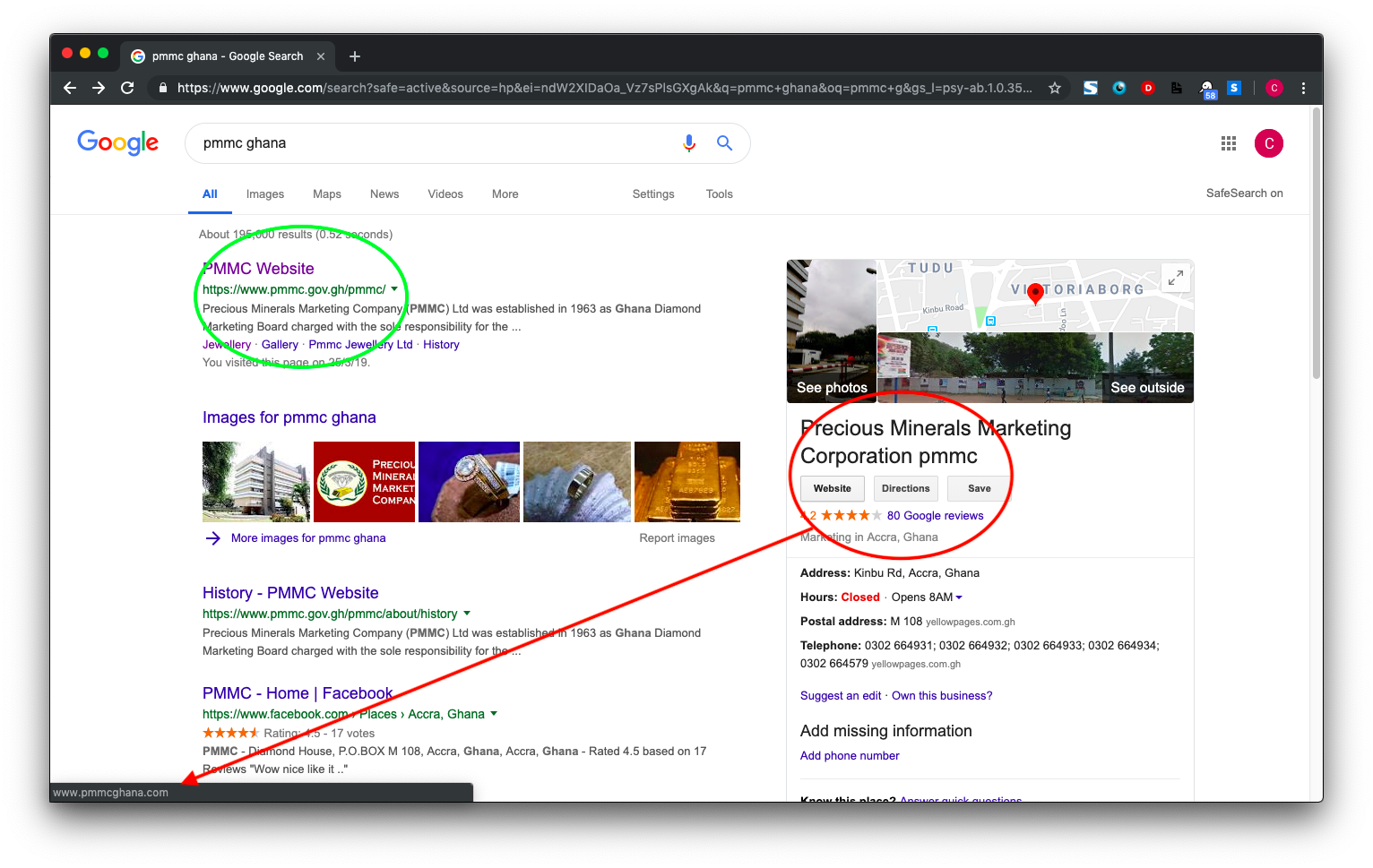 And another thing, from Singapore you need to go to Japan to get a visa before flying to Ghana !!!
Also, I will not relate the big mess it was to get a visa at the Ghana consulate in France (I flew from France for some personal reasons). But thanks to the consulate we got a visa (last hour before departure time).
Middle of March, I arrived in Accra, Ghana.
My Meeting with the Government Official for Gold Exportation: PMMC
I visited PMMC, and to be honest, I thought that the building itself was a scam. Nothing to do with a "Diamond House" as they call it. This building, representing the second largest country of African gold exportations is in a such state of disrepair that I checked many times before entering in the building. I even did not want to take photo to avoid attract attention.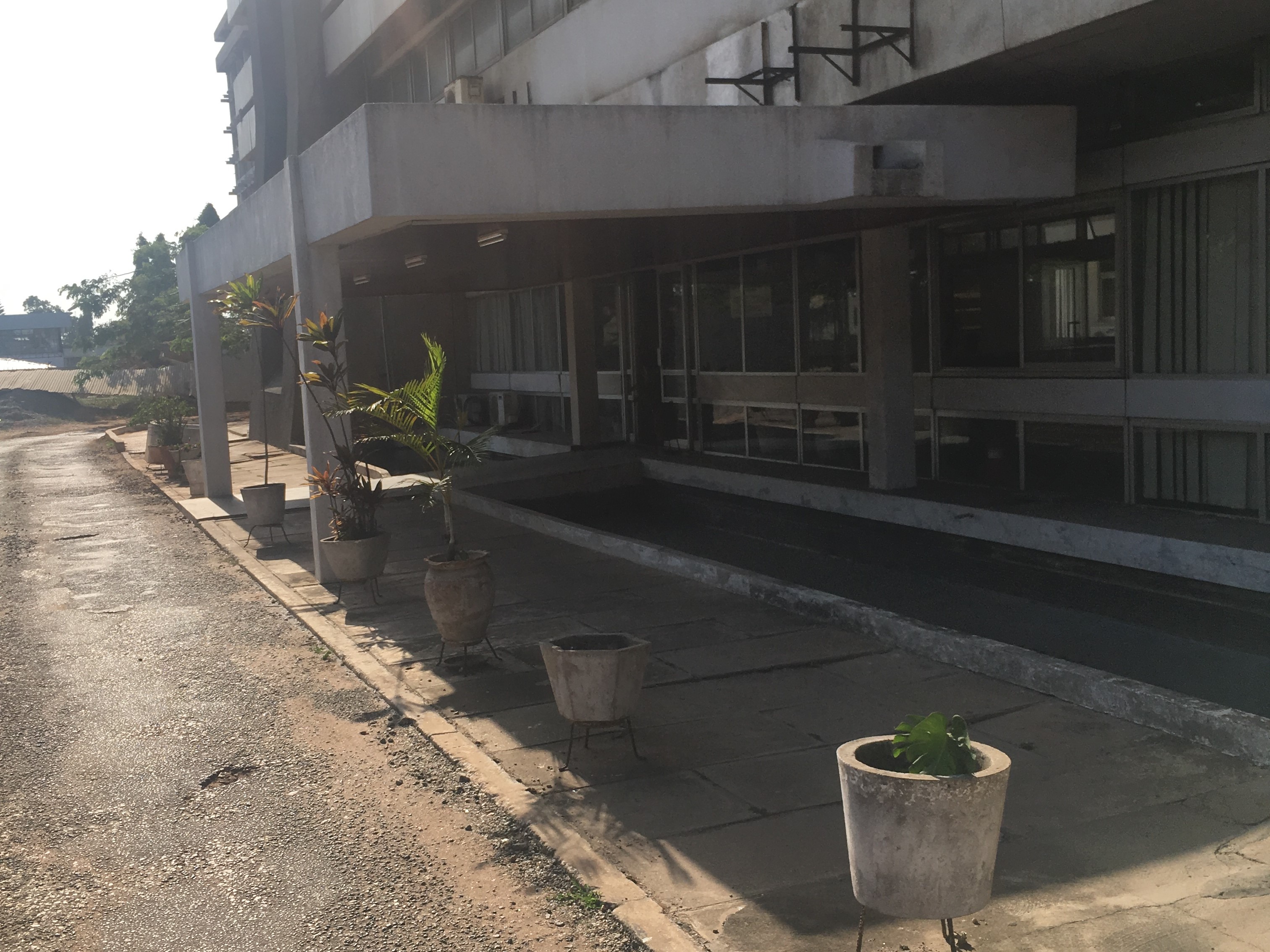 So, I've been received by someone in charge of gold assay for exportation.
The office was as a mess as the outside.
When I entered, the officer barely looked at me (No invitation to seat, texting on his cellphone...). Then, he asked me what I was looking for and I answered that I would like to know the official process to buy gold. Thus, he started to explain me the process, saying that it's complicated, that PMMC does the essay to give approval to the export and so on. « So, you will bring your grams and we will make the essay ». I stopped him and said that I was not here to buy grams of gold. "How much?", then he asked, "1kg-2kg?"
I understood that he was not taking me seriously.
I told that I was here for an Asian company and I would like to buy for 2 to 3 USD millions of gold. At this point, he stopped writing on his cellphone, looked at me and said: « Mmm…ok…You know what, we will do it together. I will help you! » By asking how, he started to explain me that he knew a friend who was running a refinery and could get me gold at good price. He personally would handle the procedure to get the gold out of Ghana. The only thing for me, was to transfer the money on an offshore account that he would give me when we signed the contract. I just wanted to ask him if the contract was a soft corporate offer. I said that I had to talk with my directors in Singapore and I will revert to him. Of course, I never did it.
My Meeting with One of the Main Refiner in Ghana
During the conference, one of the attendees, gave me the contact of the managing director of an important refinery in Ghana. She affirmed that: "He is the man to talk in the country if you want to buy gold".
So, as soon as I got his phone number, I contacted him and after I insisted, he accepted to meet me the following week.
We met in my hotel Lobby. The scene was funny. While I was waiting in the lobby, someone came to me and said, "Mr. Kolome will receive you". Then, Mr. Kolome (refinery director) came in company of another man and we started to speak. Atmosphere was cordial but strange. Like I was talking to someone important with his 2 bodyguards or henchmen.
After talking about the investment process, discount.... we agreed on 2 things:

One, the visit of the refinery and second, a possible visit of the mines (deep in the jungle).
So, the next day, he sent his men to pick me up. Again, I felt very uncomfortable getting up in the black SUV with two strong men, each beside me, heading towards Mr. Kolome's office.
The office was more like a house with some dedicated room as offices and the backyard was equipped to run some basic test on gold dore bars. In his office, we talked about different topics from his celebrity in this sector (he was on magazine cover page, speaker in conference…) to the scammers promising 20% discount while the maximum possible is 1 to 1.5%.
So, in general he gave me a positive impression, but I still was uncomfortable, and I was not ready at all to accept this concept spreading around. If you want to get gold cheaper, you send first the money and then you will get the gold in one, two or three months.
My Meeting with the Gold Scammers in Ghana
Note: When I was in Ghana, the seller contacted in Singapore did not answer me after I wrote that I was agreeing to meet him but only at the French Chamber of Commerce. Actually, the result of our due diligence found out that he was a scammer.
For example, here is the answer from the French Chamber of Commerce in Ghana, one of the external entities we hired for our due diligence process :
- Both subjects have links to previous gold scams;

- There is a 90% plus chance that the current gold transaction is not genuine;

- We would advise not to communicate with the subject further and to review all firewall and Anti-Virus software on phones and laptops used to communicate with the subject.
All the independants sources we used drew the same conclusions.
The companies involved were Direct Gold Ghana and Douglas Morgan Mining Services represented by Mr. Edwin Campbell Bandanaa and Mr. Paul Dzani.
For my 3 weeks journey, I rejected 3-4 other offers I suspected to be scam.
During my visit in PMMC, I saw 2 whites guys leaving out of another office next to the one I've been. I noticed them because they were whites among all the blacks and they really looked like Crocodile Dundee adventurers going into the bushes in order to find gold directly from the ground.
The same day after my visit to Mr. Kolome, while talking with some contacts in the lobby of my hotel, I saw these 2 white guys in a meeting with another person.
Thus, I decided to walk over and asked them about their relationship with PMMC.
The third person was from Trinidad and Tobago and explained me that he planned to ship gold from Ghana to Trinidad. Then, we started to talk, and this is how I met John Olsen from Canada and Charles.
The Scam Itself
During the next 3 days, I met every day John and Charles. I did not trust them, but they managed to get my attention. First thing, during these 3 days of meeting, they shared with me their knowledge about the Ghanaian market, the mines production and the different scam stories.…including the ones involving Mr. Kolome.
Then, unlike all the other ones, they did not ask for money at all. To work with them initially, they only were requiring a proof of fund and they were ready to carry all the risk for a first trial. Payment was only after the reception and controlling of the bars.
Here was the agreement:
They collect the gold in Africa,
They transport it to Europe via a reputable logistic company (G4S, Brinks),
They refine the gold in an Austrian refinery (I will not give the name and contact of the refinery who supported them),
I will pay them with a discount after approval of the refinery.
They were ready to start for 1kg (40 000usd).
Note: At this point, I had to go back to Singapore. So, they were keeping me informed via text message. This is a sum up.
1 - Collection of the Gold:
Problem for the collection of the gold in Ghana. They decided to go to Sierra Leone where they could also have legal gold.
They got the gold in Sierra Leone but due to presidential election everything was closed!
(I thought I do not care; I do not pay anything until the gold is in the refinery in Europe).
2 - Transportation of the Gold:
G4S does not work in Sierra Leone so they cannot transport the gold.
They found another solution (Here starts the scam).
For some reasons (different tax law in Sierra Leone, problem with transfer…) they needed to collect USD 4k. They could put 2k and ask me if I could put the other 2k.
(I thought this should be a scam but anyway, 2k in order to know if someone can really have gold at 25% discount, let's do). And then, it was a scam.
Here are some of the unbelievable text message:
Hence, the scam stopped here: there is no 3) or 4)
To Conclude
Here is my journey. Even if some decisions were not the smartest possible, I hope it will help some of you before buying gold directly from Africa.
I keep remember the sentence of Charles: "Everybody get scammed once, you have to go through it to understand what it is". This lesson cost us time and a little bit more than 2 000 USD.
Also, I could not give all the details here and my text is a little bit negative but it was in fact, a really interesting experience and I wanted to thank all the ones who helped me in this journey and the connection I made: Romain, Noureny, Emmanuel…Thank you all.
NB: Meanwhile I am writing this article, two other Chinese approached me: they received a Soft Corporate Offer from Africa and they want to go there ;)
Source: Version Française de l'Article